Description
There's nothing like curling up in a warm bed on a cold day. With the Self-Warming Cat Sack, your cat can do the same, in a bed that lets her lay her way. This unique cushion isn't your average insulated bed—it's four insulated beds in one! Featuring a soft polyester interior, and faux fur outer shell, the cat sack can be configured into a an upright fur-lined cup lounger, burrito-like cavern, flat lounger or even a human foot warmer while your fur buddy lounges on top! No matter how you flip it, this bed will wrap your furball in luxurious comfort. The exclusive design blends into any home décor and features a foldable design that makes storage painless and easy to clean - simply throw the whole bed into the laundry machine. After all, this isn't just a great cat bed - it's the purr-fect cat bed.
Features
Provides A Peaceful Hideout For Your Pet - A nice private den creates a fun cat hide-out & a comfortable top lounging area promotes relaxation for your pet cat.
Multifunctional Design - Configurable into multiple shapes: an upright fur-lined cup lounger, a cave to burrow in, a flat lounger to stretch out on, and even a human foot warmer to accompany your furbuddy while he lounges. 
Machine Washable & Easy Cleaning - In case of accidents and odors, this cat bed can be thrown directly into the washable machine and washed on a gentle cycle.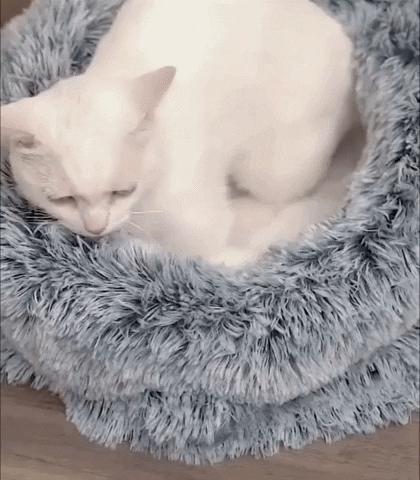 Size Chart
Please consider your pet's sleeping habits and size before choosing the best-fit bed for your pet, such as whether they prefer to have more space or curl up when they sleep. If unsure, always pick a bigger size. If you have any questions or concerns, please feel free to contact us. Below is an estimated sizing chart. Please note that this chart is only an estimate as all breeds vary in size. For most accurate sizing, please measure your pet.
Size (cm)
Pet Weight (lbs/kg)
S - 50cm x 40cm
<9lbs (4kg)

M - 

65cm x 65cm

<22lbs (10kg)
Care Instructions

Care Instructions
Simply throw the whole bed into the laundry machine and wash on a gentle cycle.