BUY MORE, SAVE MORE.

Buy 2 or more beds and get
10% OFF
!
**Please note discount is automatically applied at checkout**

The Most Calming And Comfortable Bed You Can Buy For Your Pet!


Introducing our new and improved machine washable Calming Donut Dog Bed with a zipper removable cover - one of the most comfy self-warming pet beds your furry friends will ever lay their paws on! Cozy, soft with a flexible plush, and finished with a faux fur exterior, our anti anxiety dog beds are designed to imitate a mother's fur coat for maximum comfort to reduce and relieve stress, as well as enhance sleep, health and happiness.
Features

Supports Better Sleep - Our round shaped design with raised rims in resemblance of a donut shaped dog bed is made to align with our four-legged friends ideal sleeping habits. Our Calming Dog Bed's soft faux fur exterior and plush interior also offers muscle pain relief guaranteeing your fur buddy a warm and comfortable good night's REM sleep.

Eases Anxiety - Like humans, many pets are prone to anxiety, particularly separation anxiety. If left untreated, it could lead to destructive behavioral problems, loss of appetite, or a shorter life span. The greatest solution to anxiety relief is through rest, and what better way to enhance your fur buddy's sleeping experience than to have a cozy, soft and plush pet bed - our anxiety relieving Calming Dog Bed.
Increased Happiness - The increased comfort with a fluffy and plush luxurious faux fur dog bed will not only provide a pleasurable sleeping experience for your fur buddy, but the increased amount of rest will also aid stress and anxiety relief ultimately improving overall health and happiness! 
Pet-Safe Materials With Versatile Design - Designed with durable nylon with a faux fur exterior and plush interior filled with PP cotton, it provides a soft, warm, yet breathable comfort for your furry friend. Our soothing dog beds are also designed with simplistic colors, making our donut-shaped Calming Dog Bed a great addition to accommodate for those who like simplistic and aesthetic designs!
Anti-Slippery Bottom - Our Calming Dog Bed is made with water and dirt resistant non-slip bottom pads, which eases the process to clean in occurrences of spills and accidents. 
Removable and Machine-Washable Cover - An improved key function of our calming bed for dogs/pets is the bottom zipper design which allows the shell and padding to be separated. This allows for customization in terms of the amount of padding pet owners can add into the bed for extra fluff and comfort adjusted to preference. In case of accidents and odors, the faux fur shell can also be removed and washed on a gentle cycle, making it a great machine washable dog bed. 
Size Chart
Please consider your pet's sleeping habits and size before choosing the best-fit calming dog bed for your pet, such as whether they prefer to have more space or curl up when they sleep. If unsure, always pick a bigger size. If you have any questions or concerns, please feel free to contact us. Below is an estimated sizing chart. Please note that this chart is only an estimate as all breeds vary in size. For most accurate sizing, please measure your pet.
| | | |
| --- | --- | --- |
|  Size (inch/cm) | Pet Weight (lbs/kg) | Example Dog Breeds |
| XS - 15.7"/40cm | <9lbs (4kg) | Toy Chihuahua (small), Toy Breeds |
| S - 19.7"/50cm | <11lbs (5kg) | Chihuahua, Cats, Bichon Frise |
| M - 23.6"/60cm | <17lbs (7.5kg) | Chihuahua, Shih Tzu, Yorkshire Terrier, Pomeranian, Pug |
| L - 27.5"/70cm | <28lbs (12.5kg) | Cockerspaniel, Jack Russell, French Bulldog |
| XL - 31.5"/80cm | <44lbs (20kg) | Beagle, Boxer |
| 2XL - 39.4"/100cm | <66lbs (30kg) | Bulldog, Pitbull |
| 3XL - 47.2"/120cm | 68lbs-110lbs (31kg-50kg) | Golden Retriever, Husky, German Shepherd |
Pamper Your Furbuddy With The BEST Sleep With Our Anti-Anxiety Calming Dog Bed!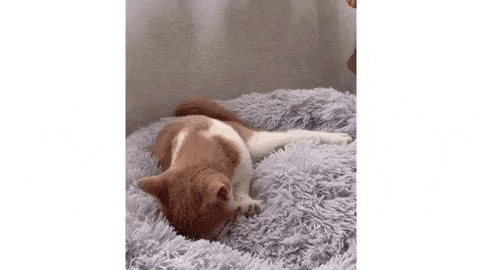 Care Instructions
Care Instructions
The covers of all our beds are removable and machine washable. Simply unzip & machine wash removable covers on a gentle cycle. We do not recommend washing the inner inserts, but if necessary hand wash only.